I've been so tied up with many stuffs since cny new yr week just end.
After new yr week, Mahjong session!!!!
Monday-- played mj at friend's house n i lost 11 dollars for the first n second round. Won back 3 dollars at the last round. Raine love keep tempting me to go zouk n marcus too.. But in the end i just went home straight after mj session at 1am.
Tuesday was at home whole day acc parent to play mj again. Won 8 dollars. while my brother was playing peanuts with us.
Wed was leon's off day. So we went to catch true legend at ps. Jay chou was starring in the movie too.
So Chan (Vincent Chiu) was a wealthy man obsessed with kung-fu who fell from grace after he and his family became the victims of conspiracies. Eventually, he rises from his compromised state as a beggar and transforms himself into a martial arts master, patriot and folk hero, honoured as the "King of Beggars".
But who knows, last min he was called back to work instead. So after movie, walked him back to town before strolling along orchard to wait for raine love n jack to arrive. We had dinner at shaw tower. Angel n her friend came to join us too for dinner.
After dinner, we proceeded to KPO to chill awhile before heading down to phuture... iT WAS an awesome night. I seemed to like wed ladies night more aredi. But i still tell myself not to be addicted to clubbing.
Met quite a few new friends there which in turn we realise actually we seen each other before n even got quite a few mutual friends.. Alex the nus hunk was really capable to have own his own tuition centre at the age of 21. Not to forget thomson n his friends.. edward, silvester, n few more.. they r all campmates n i actually forgotten that i've bumped into some of them before too. Peter was the most random one which started "have i seen u before?" u look familiar.. lol~ of cuz.. all these r actually my last time friends which we hardly connect each other. So-coincidence to say we met again in 2010. haha!
Raine love intro me to her friends too n thats how i know reuben n den ling they all.. Have a safe n fun trip!! see u all soon:D
Thurs was the day where i only get to sleep for only 2hrs n was awaken by the agent to go for casting, he even went to pick the models up n came over to my place to pick me up as well. Although i wasnt feeling well, i still went eventually. Honey was one of them.. We had lunch at pudding rd before dropping her off for another casting n the agent sent me to look for joel, as i need to pass him some stuff.
Soon it was dinner time. Met up with yuting dearie n we had a long chat over lots of topics again.. She is my soulmate. Someone whom i can confide in when im down n stuff.. We faced similar prob most of the time..
At around 10.30pm, alex came over n pick me up at jp before we were driving down to the cathay for a movie" PErcy jackson".
Movie Details
Rating: 3.5
Percy Jackson And The Lightning Thief
Plot: Trouble-prone teen Percy Jackson is about to be kicked out of school but that's the least of his problems. The gods of Mount Olympus and other assorted monsters seem to have walked out of the pages of Percy's Greek mythology texts and into his life and they're not happy. Zeus' lightning bolt has been stolen and Percy is the prime suspect. Now, Percy and his friends must embark on a cross-country adventure to catch the true thief, save Percy's mother, and unravel a mystery more powerful than the gods themselves.
Movie Photos
so co-incdence that he bumped into 2 of his friends there which were watching the same movie too. After movie, we had supper at cck, before he sent me home.
Fri was my afs event day again.. Once again, im working with 2 of the babes. L n G!:)) Met gaston from the same airbase.
Right after event, lynn drove us all down to phuture where i met angel there once again. It was a tiring night after all. Thanks to marc who is a member n brought me in. Thanks to roy for sending me n mable home. Got home around 3am n i slept till 12pm before waking up for my shopping spree with yuting dear:)
Sat-- Shop shop n shop!! Went cityplaza first n without staying long, we proceeded down to bugis n there, we bought quite a few piece of dresses.
After shopping, we headed to bugis junction to have dinner n annabel joined us too.. Around 930pm, we went over to the jap restaurant to meet my friend, peter for supper. He accompanied us till mable arrived n off to phuture again..
Alex was there early. It was a good good night afterall although things do happened like hp batt flat, cant reached my friends, gotta sent both my friends back when one of them r puking. Couldnt get any cabs after sending them home.. shagged throughout without any sleep n next min..
Im off for my shoot.. Its a mag online for some international website.. Stay tuned for pictures!!:D
Sunday-- Didn even catch a wink at all i i gotta rush down for the editorial mag shoot at clarke quay. Overall it was fun!:D did it tog with another model who was a teacher.. Changed a total of 4 outfits with those accessories on.
Right after the shoot, i headed home for the lunch buffet wiith my relatives n families before i went back to my room to catch a 2hrs nap. When im awake, all of them aredi left to the restaurant for dinner.
So i met up with xavier. the cleo bach hot hunky friend of mine for dinner at heeren's waraku pasta. The dinner was nice as we end it with a dessert known as the ice stick cake:)
After dinner, we slowly walked over to cine to catch the movie all's well ends well 2010. It was selected by me eventually cuz i always love watching those comedy. Xavier this pretty boy booked the tickets beforehand without telling me. wat a surprise!:D
All's Well, Ends Well 2009
In Mandarin with English & Chinese subtitles Genre: Comedy Director: Raymond Wong and Herman Yau Cast: Louis Koo, Ronald Cheng, Sandra Ng, Raymond Wong, Lynn Xiong, Lam Suet, Angelababy, Lam Tze-Chung RunTime: 1 hr 32 mins Released By: GV & Scorpio East Pictures Rating: PG Official Website:
http://www.happyhome2010.com/
Synopsis:
Princess Pearl of Flowerland is sent to Mainland at a young age to learn her ceremonials duties. Her mother, the Queen Mother misses her daughter very much that the King orders his sister, the princess, to return home. However, the princess has fallen in love with General Wing of the Mainland army and is reluctant to part from him. As their boat approaches the Flowerland border, Pearl & Wing save the life of a girl named Ying, who seeks to throw herself into sea after running away from an arranged marriage. Pearl, Wing and Ying are attacked by pirates and Pearl falls overboard in the ensuing chaos. On arrival in Flowerland, the King mistakes Ying for his sister, while Pearl is saved by Ying's father, Million. Movie Review:
As much as we'd hoped Stephen Chow would return to the franchise he made popular, our hopes are dashed once again with this fifth (or second, depending on which way you look at it) instalment of the perennial Lunar New Year comedy "All's Well Ends Well". Rebooted last year by producer Raymond Wong after an 11-year hiatus, this second chapter of the revamp reunites the cast Wong brought together, along with some fresh new faces.
Back again to star in this in-name only sequel are Louis Koo, Sandra Ng, Ronald Cheng and of course, Raymond Wong himself, and let's just say that it's simply delightful to see thespians like Sandra Ng and Ronald Cheng ham it up unreservedly onscreen. Not only are they physically expressive (Ronald Cheng could very well be the next Stephen Chow), they also possess perfect comedic timing and it is a combination of both that make their scenes in the movie stand out.
Written by Raymond Wong's son Edmond Wong (who also wrote Ip Man and its sequel), "All's Well Ends Well Too 2010" continues the running theme of mistaken identity in the series. Here the mix-up is between Princess Pearl (Angelababy), sister of the King (Louis Koo) of Flowerland, and Ying (Lynn Xiong), the daughter of greedy schemer Million (Raymond Wong). What happens next is simply an excuse to throw in a whole bunch of jokes that are best described as hit and miss affairs.
Indeed, Edmond Wong's script is surprisingly witty and the film's funniest moments lie in the lively banter among the various characters- in particular, the war of words between Louis Koo and Sandra Ng about what's legal and what's not in the kingdom of Flowerland towards the end of the movie is a hoot. Just as hilarious is the bartering between Raymond Wong and Sandra Ng about how much one owes the other in the form of a rap. And audiences may rest easy, unlike the other CNY comedy "72 Tenants of Prosperity", this movie survives its Mandarin dubbing in much better shape.
Unfortunately, "All's Well Ends Well Too 2010" falters when it attempts to garner its share of laughs through slapstick or any form of physical comedy. Coming off less inspired than lame, the obligatory screwball antics suffer from a distinct lack of direction. Especially tedious is the martial arts competition that the King organises to choose a suitor for Princess Pearl, which is simply a pretext for inserting a dreary parody of Ip Man. Ironic as it may sound, it does take skill to make nonsensical comedy. Alas, it appears that neither director (Raymond Wong and Herman Yau) has the finesse to pull it off- either that nor one of them doesn't, for it does seem that the film can be divided into the parts that really work and the ones that just don't. Luckily, the parts that do are genuinely funny. Yes, not all is well with this fifth chapter in the series, but the clever banter and the ensemble cast still manage to make this movie end well on a high note.
If you're looking for some nice laughs, and are in a generous mood, you'll find "All's Well Ends Well Too 2010" quite the amusing and entertaining movie this CNY- though we are still secretly hopeful that one day, Stephen Chow will decide to return to such a distinct Hong Kong-flavoured screwball comedy.
After movie, both of us were aredi tired that we decided to call it a day. Nice outings afterall:)
Tuesday-- headed down for briefing in the morning for the 1wk secretary job to take over cynthia's duties as she is going for an overseas holiday.
met up with simon right after that for an hr lunch at ding tai fung. WE had a great chat over filming topic.
wed to thurs-- running two jobs.. So shagged that i just got home straight after work.
Sat-- Family gathering at 4th aunt place. Mj tog with mummy n leslie. Home to play poker with mummy n brother.
sun-- caught From paris with love with leslie. we had astons at the cathay.
Movie Details
From Paris With Love
Plot: A low-ranking intelligence operative (Jonathan Rhys Meyers) working in the office of the U.S. Ambassador in France takes on more than he bargained for when he joins forces with a wisecracking, fast-shooting, high-ranking U.S. agent (John Travolta) who's been sent to Paris to stop a terrorist attack.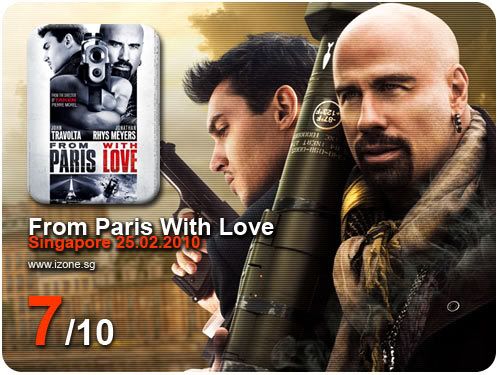 "From Paris With Love" shows you a wild and crazy side of John Travolta you have not seen before. You may have thought you had seen it all when he played a woman in "Hairspray" or even when he played good and bad roles in "Face/Off." Then there was his career starting role as the singing/dancing Danny in "Grease." But in "From Paris With Love" he out does all his other roles as he plays a profanity spewing killing machine named Charlie Wax.
The focus in "From Paris With Love" is on diplomatic attaché and CIA trainee James Reece (Jonathan Rhys Meyers). He lives in Paris with his girlfriend Caroline (Kasia Smutniak) and works for Ambassador Bennington (Richard Durden). He also moonlights as a CIA trainee of sorts.
One day he gets a call saying he is going to be partnered with Charlie Wax. Once the two men meet up at the airport the profanity starts spewing and the action takes off. It is a wild race from this point on with the body count mounting as Wax moves through Paris. This guy takes no prisoners and has a gleeful time doing his dirty work.
The great thing about this movie is it is so action packed. You might even say action stuffed. There are very few moments between gun blasts and car chases, and sometimes a combination of the two. Director Pierre Morel ("Taken") knows how to keep the pedal to the metal and you will be gasping for breath by the time you reach the end of the film. Plus there are some amazing plot twists and turns that you might not see coming.
Travolta attacks this role with enthusiasm and macho mania. He is convincing in the acting department as well as in the physical activity requirements. Charlie is a one man killing machine and Travolta acts the role with gusto. Opposite him Rhys Meyers takes a little longer to adjust to but he makes it work in the end. By the time you leave the theater you realize you would be up for a sequel with these two partnering up one more time.
You will probably also want to see more of Smutniak (bad marquee name and all). She is an Audrey Hepburn look alike who adds some sex appeal to the film. She and Rhys Meyers have good chemistry together.
There is something to be said for mindless entertainment like "From Paris With Love." You go to the theater, sit down in your seat and let the action take you away. You won't burn a lot of brain cells trying to figure out the plot because it is really just coincidental. The fun of the film is watching Travolta go crazy and chew up the scenery. He looks like he is having a helluva time and you will too.
So go to "From Paris With Love" and let the action and the excitement take you away from the worries of your world. Travolta plays a foul-mouthed government killer on a spree in Paree. He's having a ball and so will you.