I'm sure most of us weren't aware that today is our Chinese Valentine's Day. Also known also Qi Xi or Qi Qiao Jie.
You may not be familar with this festival, but the term 牛郎织女 will be familar to most of us right?
I didn't know that we celebrated this day on the 7th day of the 7th lunar month.
Now i'm starting to wonder why that 7th lunar month? ain't it supposed to be hungry ghost month?
why allowing them to meet only in such a scary month of the so many 12 months to choose from??
They weren't even ghost to begin with, apparently both were fairies or rather in a different version,
Did a search on this festival, apparently there were 2 versions of the stories.
According to the first version, the seven daughters of the Goddess of Heaven caught the eye of a Cowherd during one of their visits to earth.
The daughters were bathing in a river and the Cowherd, Niu Lang, decided to have a bit of fun by running off with their clothing.
It fell upon the prettiest daughter (who happened to be the seventh born), to ask him to return their clothes.
Since Niu Lang had seen the daughter, Zhi Nu, naked, they had to be married.
The couple lived happily for several years.
Eventually however, the Goddess of Heaven became fed up with her daughter's absence, and ordered her to return to heaven.
However, the mother took pity on the couple and allowed them to be reunited once a year.
Legend has it that on the seventh night of the seventh moon, magpies form a bridge with their wings for Zhi Nu to cross to meet her husband.
In the second version, Niu Lang and Zhi Nu were fairies living on opposite sides of the Milky Way.
Feeling sorry for the two lonely sprites, the Jade Emperor of Heaven actively tried to bring them together. Unfortunately, he succeeded too well - Niu Lang and Zhi Nu became so enraptured with each other that they neglected their work.
Annoyed, the Jade Emperor decreed that from that point on, the couple could only meet once a year - on the seventh night of the seventh moon.
And so today, star gazers celebrate Qi Qiao Jie by gazing up at the star Vega, east of the Milky Way which represents Zhi Nu,
and at the constellation Aquila, on the west side of the Milky Way, where Niu Lang waits for his lover to join him.
Pictures of Qixi: Chinese Valentine's Day
The
Valentines Day
comes on China on the seventh day of the seventh lunar month on the Chinese calendar. Chinese Valentines Day known as
Qi Qiao Jie
(QiXi) Festival in China. The other most popular names of Chinese Valentines Day is Festival of the Double Sevens', 'Seven Sister's Festival' and 'The Daughter's Festival'.
Chinese Valentines Day is based on the love story of the 7th daughter of Emperor of Heaven and an orphaned cowherd. The 7th daughter was forced to move to the star Vega and the cowherd moved to the star Altair. They are allowed to meet only once a year on the day of 7th day of 7th lunar month. Since this day celebrated on 7th day of 7th lunar month.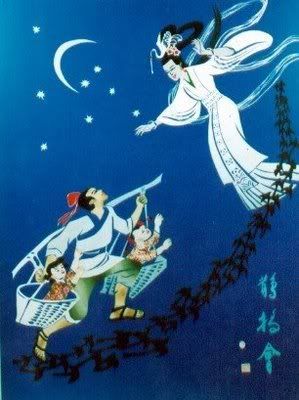 The celebrations of Chinese Valentine's Day or Qi Qiao Jie – the seventh eve is quite different from usual Valentine's Day celebration we see in rest of the world. In this day Chinese people visit the Temple of Matchmaker on the Chinese Valentine's Day and pray for their love and happiness and their possible marriage. In this day the lovers are exchange of flowers, cards and chocolates as tokens of love between lovers.
SO....
Here i wish everyone...
happy Chinese Valentine's Day.
Tues-- was clearing some of my picture folder when i came across a few of those past photoshoot which i did.. share with u all..:)
I always wish for a home of my own where i can design it in my own ways.. Such eg...
Modern home design with swimming pool
Each
home
begins with the
entrance hall
. Opening the
door
, man makes the first step in their
house
, entering the hall.
This is how my kitchen going to look like..
On the second level, i would use a diff wall color to bring out the vibrant of the whole house.
The bathroom is probably the smallest room at home. After a day of long activity, its best to soak yourself in the bathtub with lcd tv installed on the wall just to relAX AND enjoy:)
this movie has a great showcase of dance moves all the way from the beginning till the end.
This movie begins with an interview with a few dancers.
These short interviews were actually put up by Luke who not only has interest in dance but film making as well.
He usually goes around with a camera in a dance club, filming people's dance moves and recruiting those that impress him from the public.
Natalie, not only caught his attention with her dance moves, but caught his heart.
Unfortunately, she was the sister of one of an ex dance member from Luke's dance group, the pirates.
However she does not know about it and ran away from the group and Luke when she found out.
In the case of Moose, it is his engineering degree and best (girl) friend, Camille, versus his pursuit of dance.
The 3D effect in this movie is much better than Street Dance. The dancers do pop out right into your eyes. Do make it your first choice to watch it this weekend.
After movie, we stayed on at cine to play L4D2. Its really rather addictive to say. I played till i felt the dizziness in my head that i decided to stop and just go for our late dinner and home after that.
SUnday-- Last day of the invest fair 2010:)
Was half an hrs earlier today that i went to look for iris and also leslie they all too. SO co-incidence that i actually bumped into friends that ive not seen for mths.
After work, dad came n pick me up and off we went home. I slept throughout the entire evening till dinner time.