Before i actually start on any of my backdated posts, let me quickly do some updates on what i;ve been busy with for the recent 4 days instead!!:))
As usual, comex IT fair usually falls on the late aug or early sept. This time round, i was working for lenovo as their showgirl together with 2 other pretty model friends of mine, celine n reiko. They r also my breaks partner for the entire 4 days. Just that we took turns to go for breaks.
Actually it was kind of a last min decision too. If i didn even go down for the casting, i would nv had a chance to work for this yr comex. Thanks god for that:DD At first i was still hesitating wether to give it a try anot since its been so long since i last go for casting aredi. Can say so this is like my first casting of the yr. Having to be selected among 20 over other models r nt easy.. Really, esp all girls r equally gorgeous too..
Of cuz, the entire 4 days r also tiring as well.. Esp with our killer boots on for hours. I even got to report for work early in the morning by 11am though i was sick the third day. Evryday at most slept less than 4hrs and gt to wake up n go work aredi.
I always enjoyed working for exhibition shows, cuz thats the only time where u can get to see all other friends around at other booth too. Of cuz, this time round, i get to see many of my old friends n familiar faces too working at diff booths. Names to be mentioned includes chanel n stephanie, huirong, winnie n kit, shuana, vivian, nick, wind n JX, n so on.. Didn really get much chances to go up to level 6 so nt too sure who else r working. Pardon me if ur names r nt mention here k???=x oh ya, gotta thanks those who came down as well although i didn even announced that im working or whatever. Some r just co-incidentally bumped into while some r aredi known when i replied their sms.
Of cuz not to forget our papasan. H.S the emcee who is always well liked n popular with lenovo:) I would nv fail to see him at lenovo during it shows. Whenever he sees me, he will always pass me water n sweets.. So nice of him!:)) Well, as for our welfare, i could say that its nt too bad afterall:)) we were treated very nicely by the in charge n everyone there:)) short breaks were given when we were tired, water was provided.
Nth much to mention too as every job scope r almost the same everytime during comex. Just that tis yr, lenovo is also tied up with singel as partners thats y we got to run two booths:) one at level 4 n the other at level 2. Make friends with the promoters there too:)) N the intel guys-- ryan who tagged along with me n reiko for the last day of break.
Our fav place during breaks~~~~ starbucks!!
ANother camwhoring place is none other than the~~~~ Toilet!!
My felicia chin-look alike friend:))
Girls r always girls:)) cant be helped~~
now u guys should noe the reason why girls always take so long inside the toilet:))
We were given two diff themes of outfits too as can be seen from the pic.. One is sweet n cute, the other is elegant n classy. two days of diff boots color plus diff skirts.
During work time~~ Ppl taking photos
Thats all for now.. TBC.. many more photos to be uploaded n the sad thing is that i got to retype everything.. accidentally close it without saving:(
lets cont with more pic to do the talking!!:D
found in vr zone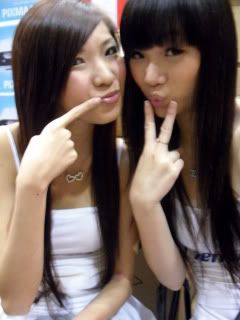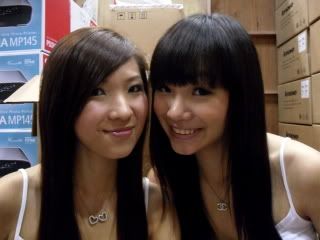 photos again while we took a short 10 min breaks in the room! =)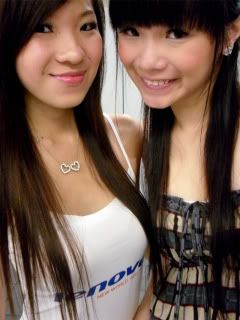 celine was even later so me n reiko camwhore a lil!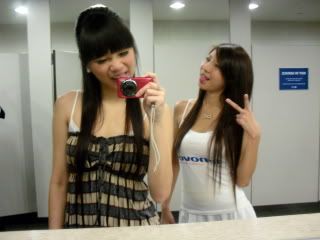 celine reached n we start work with 3 ladies in full white!
i guess today's attire attracted the most attention?
LOL!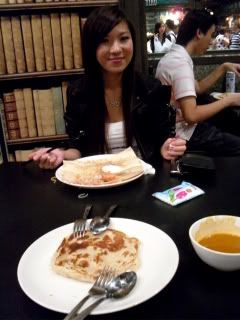 break with reiko n her bf.
After one plate of fried hokkien mee, we still order prata!!
now u noe why attracted so much attention?!
yes, partly becos of the full white attire..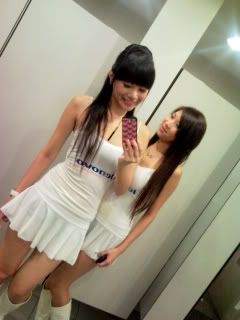 and not forgetting the trans n flowie skirt. =/
our lunch break was like freaking late.
or rather it's like a dinner break!
cos we had our food only at 4pm?! =X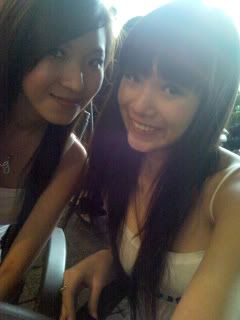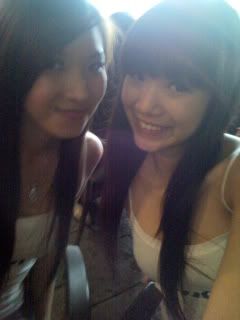 me and reiko went for break together and managed to snap some pictures. =)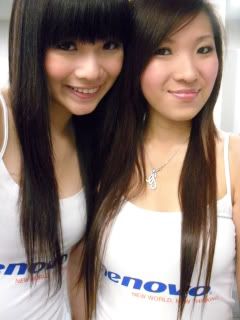 toilet is always the best place for ladies.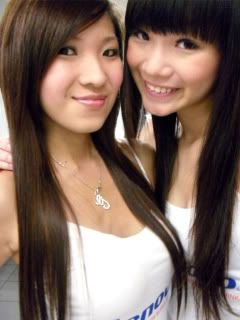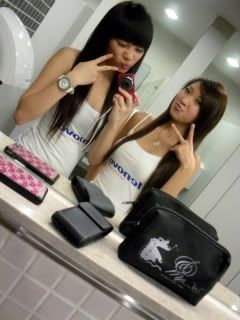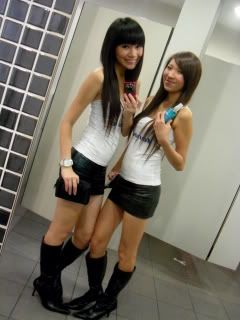 First day after work, headed down to butter with celine n audrey they all. the juicy couture girls were mostly there nt forgetting kit too..usual ppl like serene n joycelin. Peggy, kerson, joanna n jason, jiaxi, june etc were there too. Andrew came down as well at a later time with his friends.. not to forget kenneth n the friends:))
11/9-- after work, kenneth help me to send darling kerien home while i went ahead with leroy n audrey, haiyan to marina barrage.. ray came down n join us too
12/9-- running high fever while working. sat headed down to janelle's birthday party!! janice was there too.. Thanks to JQ for sending me there.. After the celebration, Eragon came down n pick audrey n us down to soho!!! stayed till 5am with xuan hong they all too..:D
13/9-- after work, andrew came n pick me up for supper n chill out. Its always very sweet during dating time. But there r also problems where we ourselves dun really understand.