Tues-- met up with my bf- fang n selina to pass them the stuff i bought during my trip.
wed-- work at vivo for tangs closed door event with charissa.
As promised... Here is some of the raw materials for the mag shoot. not out yet. just a preview!
Fri-- TGIF!!:)) since its fri, of cuz i cant just let it to waste.. Met up with agnes n vanessa, not to forget shinz n Ming jie for dinner. MJ came down n give me a lift from town before we drove down to bugis to meet the rest.
Wat a co-incidence, i actually bumped into my neighbour, mr charming too. WE didnt get to talk much as he's on his way for his fashion show rehearsal. After dinner, we went over to BQ for chill out session. Thats when k came down n look for me. Shinz brought us to his friend's pub at MT.
At around 12am, me n K left to go catch a movie in town. We caught "Kaiji". the second jap movie that we watched. Both of us r into japanese lang thats y. He's good in speaking japanese too:) before the movie began at 2.15am, we had a game of basketball, racing n not to forget the pool session.. Its indeed fun.
Kaiji
Ratings:

(3 votes, average: 3.67 out of 5)
Synopsis
"Kaiji: The Ultimate Gambler" is an exciting psychological thriller starring Tatsuya Fujiwara as Kaiji, man forced to enter a deadly gambling competition aboard a cruise ship, to erase a large financial debt. Based on Nobuyuki Fukumoto's hit manga series which has sold over 11 million copies, Kaiji is a 26 year-old job-hopping bum who suddenly finds himself riddled in debt after a shadowy loan company informs him that he is responsible for a loan taken by his friend (who has since gone missing) and whom he casually co-signed as a loan guarantor for!
Reviews on it~ How i feel after watching?
What I loved most: keeps u thinking abt it after that
What I really hated: The story has a slow start but will pick up in mid time, but it is not a story that will make sense just looking at it, though it has very good excitment in every game event, but the story is linked to the japan economy when everybody has given up during the depression. Plus it is showing the vast diff in the difference of a life between a king and a slave, that is the economy difference between the rich and the poor now, if u really understand what the movie is showing, i think u will appreciate it. i personally think the scriptwriter is a genius
After movie, its time to go home.
Sat was the day where i got my surprises from my darling n the guys!!:) nick n k were mentioning bout meeting up on sat earlier on tog with annabel my babe. However the 2 of us dunno whats the plan this two cute guys r up to.Till i only got to know when i got to simei..
The guys were actually going to.............................
Whipped up some nice dishes. Headed over to k's hse where his maid n parents were all at home too. His parent just got back from their trip. I love coby. He's indeed an obedient dog, wont bark anyhow even when he saw ppl coming in. No wonder k mentioned that coby is just an entertainment dog. lol!! The four of us actually helped out in cooking spaggetti:) with the guidance of the maid of cuz. we took lots of photos n videos as well:))
K's semi detached can really to be taken as a party home or a home for photoshoot. I always love to have parties at home. Too bad parent dont allowed unless for special occasion.
We had a chit chat session right after dinner before all of us headed out for movie at PS. Caught Kidnapper.. The show was so so only.
Genre: Action
Director: Kelvin Tong
Cast: Christopher Lee, Phyllis Quek, Jerald Tan, Jack Lim
RunTime: 1 hr 38 mins
Rating: PG
Movie Synopsis
Lim (Christopher Lee), a struggling and obnoxious 40-year-old taxi driver, is a complete failure. His wife left him years ago. And his only son – Wei Siang (Jerald Tan) – is frequently neglected. Mistaken for a rich man's son, Wei Siang is kidnapped at an arcade one day and held for an enormous ransom. Thus begins one father's relentless quest to get his son back. In the process, he gives up everything in his life to raise the ransom, only to discover that the nefarious kidnapper (Jack Lim) wants even more money. Unable to raise the second ransom, Lim descends into madness as grief and self-doubt overwhelms him. His own morals are threatened when he flirts with the dark side in a desperate attempt to get his son back.
After movie, we had supper at katong before heading home.
<
On a sunday noon, it was raining so heavily that M came down n pick me up before we went shopping in town. Had dinner at sushi tei where i recommended him all the food i've usually picked.. Our fav is still salmon sashimi. Right after dinner, he sent me to cine for my meeting time again with shin they all. This time round, natasha came too to attend it:) its once again held at the kbox cine. Ariel was there as well.. not to forget henry the photographer.
Monday was the day where i did my mcdonald's tvc shoot. Thanks to my babe for the intro n recommendation. It was awesome n fun with the ppl there. The crew n producers, not to forget the director etc.. This is a day where kris n i became a very good click too. We actually knew each other before that, but nv met each other in real b4. The shoot was way beyond the time that was agreed earlier on so ended up 530pm then we call it a wrap.
We had a very good conversation n also not to forget the steamboat that we went too after our shoot. The two of us were known as big eater. Once settled down, we couldnt keep grabbing the food:)
After dinner, we headed down to clark quay to look for her friend who owned crazy elephant n we eventually hang out at hooters a little while also. Simon was really a full of craps entertainer. hahha!! his joke can make u laugh non-stop even when its so cold n lame. Ended our night with a pool session:))
tues-- Did some shopping spree with my baby kris n I ended up buying 3dresses n a thick coat from CP n FEP:) dinner at teppanyaki ion orchard with shin n alex before home sweet home
wed-- had dinner with annabel at xing wang taiwan cafe before nick n K came down n look for us. WE caught " hw to train your dragon"
As promised! The movie review!
How To Train Your Dragon
Genre: Fantasy
Director: Dean Deblois, Chris Sanders
Cast (Voice of): Gerard Butler, Jonah Hill, Jay Baruchel
RunTime: 1 hr 35 mins
Rating: PG
Movie Synopsis
From the studio that brought you "Shrek," "Madagascar" and "Kung Fu Panda" comes "How to Train Your Dragon" – a comedy adventure set in the mythical world of burly Vikings and wild dragons, based on the book by Cressida Cowell. The story centers around a Viking teenager named Hiccup, who lives on the island of Berk, where fighting dragons is a way of life. The teen's smarts and offbeat sense of humor don't sit too well with his tribe or its chief, who happens to be Hiccup's father. However, when Hiccup is included in Dragon Training with the other Viking teens, he sees his chance to prove he has what it takes to be a fighter. But when he encounters (and ultimately befriends) an injured dragon, his world is flipped upside down, and what started out as Hiccup's one shot to prove himself turns into an opportunity to set a new course for the future of the entire tribe.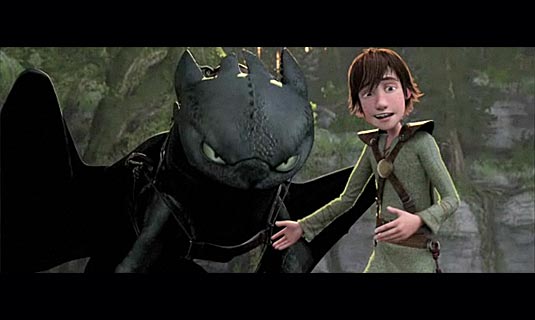 Absolutely stunning movie. Little wonder there have been so many people recommending me to watch this film. It's definately worth the price anytime anyday. Animal lovers should watch this movie. People who likes Stitch should watch this movie (because the dragon Toothless really have a strong resemblance to Stitch). In any case, I strongly recommend everyone to watch it. No regrets! Promise!



fri--- Did a fashion runway at chevrons. Its been ages since i last did it aredi. Luckily valerie was with me too. not to forget kris n one more girl. 4 of us did 3 rounds in total:))
AFter the runway, our sweet babe sent us down to town n i went to eat KFC alone while waiting for gwen to reach. Ended up, K substitute her in catching "when in rome" with me.
When in Rome
Synopsis~~
Beth is a hard working career woman whose last relationship says that she puts her work above him so he left her. When he tells her he found another career and is willing to stick it out with her and is engaged to her she feels that there is no one for her. And when she goes to Rome to attend her sister's impromptu wedding and after meeting the best man, Nick she's attracted to him but after seeing him with another woman, she gets drunk and goes into the famed Fountain of Love and takes some coins thrown by people looking for love. When she goes back to New York four men start coming onto her. And Nick keeps calling her asking her out. She later learns that what she did--is a no no. It seems legend says that if you take a coins out of the fountain the person who threw it will fall in love with who took the coin. So she has to find a way to break the curse. And she wonders if Nick whom she likes is with her cause he wants to or is he under the spell.
Sat-- In the evening, I attended a commissioning ball dinner of the OCC at Shang -Ri la hotel. It was pretty awkward as i dunno any single ones there. All guys were supposed to bring their date there. Thats when i see so many girls specially dressed up for the function.
The course of the food was really delicious.. There were dance performance, escape performance, games n also lucky draw.
After dinner, des sent me down to lebar to meet gwen. Happy birthday babe!!:D
Soon k came over n we headed down to ECP for a stroll before home sweet home:)
sun-- brought my younger bro to singtel to purchase a new touch screen phone before im off to the ktv bash event at alcool.
Shoot with Tracy!:D
My turn to shoot!!:D
Thanks for those who came down to give me the support. No words to describe my feeling. "devastated" is the word that i will use after the event.
In the car, i was tearing while thinking of the issues over n over again. Upon reaching home, i teared once again while listening to some sad song. I simply hate the feeling of being a fool. From today's issue, i see true colors n tell myself nv to make the same mistake again.
nth is easy.. i put in loads of efforts n hardwork in order to make it a success. N yet im sort of being made use of. The feeling is terrible. Esp when its ppl whom i trust. Sigh... Luckily i got good friends around me who really care n did cheer me up.
Tues-- Met up with yuting as she's going to fly again this coming fri. This time round, she will be going to HK for a trip:) so shiok.. How i wish i can go on a trip too in april..
Brought her to Waruku at heeren n today's treat is on me.. We ordered lots of food n ended it with a nice dessert too--Mocha Pudding:) Its yummy n very filling indeed!! :) Right after the delicious meal we had, we slowly headed over to ion orchard to wait for her friend to arrive before i went home.
Wed-- Shopping therapy with Fyonne was so much fun!!! Accompanied her to shop for her friend's birthday presents n also not to forget those engaging conversations we had. We even had a sumptuous meal over at fareast jap restaurant. The ramen there was good too:))
Thanks for the super belated birthday treat!!:D We bought the same dress of diff colors too.. Gonna wear it out the next time when we meet!!:D