30/12Thurs-- Had a good catch up with c to celebrate his belated birthday and also to receive my xmas present from him:) Its a canon ixus 130!:D the newest digi cam for now:)
We drove over to demsey for a high tea where champagne r serve too..
heres the great tea buffet snacks i have over at dempsey hill:)
Then by 6pm, he drop me off at lucky plaza where ryan came n meet me to go change the currency for tw. AFter that, we headed over to orchard partyworld to look for wenkai and wei kun. At about 8pm, we had dinner over at wisma before the rest left and only me n ryan went to catch the show we wanted to.
Its entitled:
Meet The Parents: Little Fockers
A sequel to "Meet The Parents" and its sequel "Meet The Fockers", "Little Fockers" will revolve around Greg Focker (Ben Stiller) and Pam Byrnes (Teri Polo) trying to cope with raising their five-year old twins. Robert De Niro and Owen Wilson will reprise their roles in this comedy movie wherein De Niro and Jane Rosenthal are serving as producers.
reviews:
I watched the first two "focker" movies, would say this is an entertaining lighthearted movie.
Owen wilson plays his typical role of the all too perfect ex boyfriend. Am surprise that Jessica Alba takes up such a bimbotic sidekick role with a few flesh baring scenes to raise the temperatures of course.
I find the plot pretty predictable though... Ben stiller's parents barbara streisland and dustin hoffman remains the funniest as ben stiller's parents.
Overall, watch if you need some light laughs don't expect anything more.
Right after movie, we had a chill out session over at kpo before home sweet home.
NEw year eve countdown!!
Fri-- It was my most enjoyable night before leaving singapore. Met up with my sis d for a shopping spree over at bugis before we drove down to orchard to meet up with dylan and also agnes, my dearest late darling queen for dinner.
Soon after at around 10pm, we drove down to marina oriental hotel for the countdown party which is organised by ryan. To say that the whole city hall were packed with cars and jammed like hell too. So we parked at marina square and walked over to find them:)
The view was real awesome from the hotel room.
We can see the live performance which was telecast on ch.5 by gurmit singh and michelle chia.
The rest can be explained from photos below:)
Now comes the fireworks!:D
After the fireworks, the guys began to play cards and 5-10:) n not to forget our usual 1-100:)
Stayed till 230am before joseph came n pick us up and sent us all home. I immdeiately head up to pack my luggage together with mummy. Thanks to joseph for sending me n mum to the airport too like in the early morning at 4am.
Met up with dylan at terminal 1 to check in our passport. This is gonna be a surprise trip to mummy as her birthday is just around the corner:) happy birthday in adv to mummy!:D Welcome to Taiwan!:D
Phew, finally I get to update my blog and share my trip to
Taiwan
not long ago (just returned last Friday) Tell you what, winter is definitely the worst time to visit Taiwan, or maybe
Taipei
only I don't know. Its freezing cold and the degree was no more than 8degree celcius. between 5-8 degree:( Gotta wear layers of clothing and thick coats to keep urself warmth.
Thanks to daddy for the sponsors of the air tickets of mummy n I=) We took jetstar asia plane this time round:) To say i took a nap for the entire 4 hours on the plane till it touched down:) Thats the consequences of not sleeping at all the prev night.:(
At 11.50am, we touched down at Taiwan Taoyuan International Airport

.. The first thing we do was to go find a rental car with a chaffeur to send us to our respective hotel.
The accommodation we stayed for the first 3 nights in Taipei, was around 7500nt which is equivalent to 300sgd over for 3 nights.
After putting down our luggage, we headed out for yoshinoya before resting in the hotel a while

till

it was evening, thats when we decided to pay the night market a visit. And of course it gotta be Shihlin Night Market!
Costs only NT$15 by bus. Took a bus ride as we wanna experience the feel of the bus in taipei:) I realised that they paid only after u get off the bus.
First thing that caught our eyes when we entered the night market, a lady selling sticks of candies 糖葫芦 made using huge strawberries. And I mean huge! it was delicious but a bit hard to bite.
Some fruits that you must try in Taiwan are mango, lychee, guava and watermelon. Their watermelons are not round and longer in shape, not as juicy as ours and pack more crunch in the flesh.
起司马铃薯 (Cheese Potato) is a very popular food in the night market as well after being featured in many Taiwan food TV shows. We didn't try it because the portion looked big and we wanted to save space for other stuff
Although it's a popular food in Taiwan, Stinky Tofu (臭豆腐) is one thing I couldn't stand. The taste, the smell, everything about it. Besides being barbecued, you will also find them being cooked in 麻辣 (Ma Lat) style and hot pots.
I think I will never ever be able to like Stinky Tofu. I just couldn't tolerate the stench it emits.. and it felt like eating garbage while munching it in your mouth. Sorry to those Stinky Tofu lovers out there.
Due to the huge crowd, people are forced to walk near the main road. If you are not careful you might get hit by the incoming cars, scooters and worse still, buses! See the bus number 616 in the background? It was only inches away from the pedestrians.
Besides food, shops selling clothes, either branded or non-branded are widely available at the night market. I noticed that Taiwanese like to shop at night markets more than at shopping malls
Diagonally opposite the Shihlin night market is the old Shihlin Market – a food court like building. Some of Shihlin's best food can be found here like 豪大大鸡排 (Hao Da Big Chicken Chop) and Oyster Omelettes.
Due to the long queue, i decided to give it a miss.
Shop till around 10pm and we cabbed back to the xingshan hotel.
This is a pouch i bought. very convenient and super nice to use. i can keep everything in diff compartment without any fear tt i cant find any of my items:)
Second day in taipei!!
Today, we got my friend calvin who is staying in taiwan to come n be our tour guide for a day. He drove over to the hotel im staying and picked us up at 2pm.
First stop-- XI MEN DING
had
阿宗面线 (Ah Chung Flour-Rice Noodles) at Xi Men Ding.
you have to stand beside the road.
Visitors to Taiwan shouldn't miss the chance to try inarguably one of the most popular food there, called Oyster Vermicelli(locals call it Oh Ah Mee Suah). This street food is almost synonymous with Taiwan, mention Taiwan and this is probably the first thing that comes to mind, vice versa.
From a food lover's perspective, if you have visited Taiwan before and did not try a single bowl of Oyster Vermicelli, my oh my your trip had been in vain. It is basically a type of noodle soup with oysters (or substituted with pig's large intestines) and vermicelli as its main ingredients. The stewed broth is thick, aromatic and always served piping hot.
Shopped around xi men ding too and got myself a pair of jeans, dress and also a top.
Addicted to this:)
Second stop- we headed down to wu fen pu night market where traffic r super congested,
this is what kept me warmth:)
AT wu fen pu<:
Left the place and went for dinner:)
Had steamboat for dinner before calvin sent us home.
Third day in taipei-- our first destination is to longshan temple. Before that we had lunch:)
omelette rice wth chips=D
Before that, we tried to figure out how to get there by taking the mass transit rapid.
Instead of tickets, their MRT station accepts token with the fare programmed into it.
The gates are fitted with a scanner that scans the amount stored in the token, faster and more straightforward compared to using tickets. And when you're exiting, just insert the token into the slot.
Here we r at the longshan temple!:D
Once you reach LongShan Temple MRT station, there's a short underground tunnel that you need to go through before reaching the temple. Along the tunnel were some shops offering fortune telling and traditional facial hair removal services.
There are actually five temples in Taiwan named Longshan Temple 龍山寺. It serves as a place of worship for the locals but for me, it's a place to admire Taiwanese classical architecture.
Offerings by the devotees.
Then after which we went SOGO to just window shop before back to shihlin night market again:)
The fierce bulldog which helped the owner to look after the shop while she was away.
Tues(4th day frpm taipei to taichung-- check out of the hotel before proceeding to the high way rail speed train to taichung.
Saw xing guang san yue too while i went to buy macdonald back when our train will arrived at only 3pm.
Arrived at taichung at bout 515pm where we then check it to holiday inn hotel which is pretty near the train station.
Right after we reached, we put down our luggage and once again rest for a while till it was 730pm. Headed to the nearby yi zhong night market for a walk before back to the hotel to rest.
The view from the window:)
Today we spent most of our time just watching tv prog in the hotel before going out to feng jia night market at night.
AT feng jia night market
Everynight, baby ryan sure viber with me without fail:) we usually chat till 230am just anything under the moon kind.. Seemed like we really have endless topic. lol..
Went to yizhong qu to walk around before heading back to the hotel to rest.
wanted to try out this 4d simulator but the queue was kind of long.
Had mos burger at night.
check out of the hotel at 1pm where the chaffeur reached at about 130pm. He then sent us to the taipei airport which took a approx timing of 2 and a half hours journey. Halway through it began to rain too.
Got to the airport at 330pm where my checking in time was 5pm. So mum n i headed to their nearest cafe for lunch first. Shopped around for some local delicacies too till about 7pm, its time to go in.
Boarded the train at around 740pm and touched down to sg at around 1am.
My loots!:D
sat-- Met up with baby ryan for a movie which both of us also wanna catch:) Thanks to the present u got for me from hong kong:D simply lovely..
Love And Other Drugs
"Love & Other Drugs" is based on Jamie Reidy's memoir Hard Sell: The Evolution of a Viagra Salesman. Maggie Murdock (Anne Hathaway) is an alluring free spirit who won't let anyone - or anything - tie her down. But she meets her match in Jamie Randall (Jake Gyllenhaal), whose relentless and nearly infallible charm serve him well with the ladies and in the cutthroat world of pharmaceutical sales. Maggie and Jamie's evolving relationship takes them both by surprise, as they find themselves under the influence of the ultimate drug: love.
After movie, we had suki sushi as our late lunch, before im off to work for a private 10th media anniversary where all the movie directors were invited to attend too. They r ppl like royston tan, eric etc.. Worked with fion, felicia, mei yan, jennise and jennifer.
However, unexpected situation happened tt cause unpleasant mood. I Just dun understand why can't one put themselves in other ppl shoe that nv to take any belongings that is not Urs? Imagine if u r the one who lost ur wallet, phone or any impt valuables, wouldn't u feel the same sadness too?
recall from previous blog post:)
Went to do some christmas shopping alone while waiting for jovin to arrive at jp. Bought some presents for the girls and after jovin arrive, we went to have lai lai as dinner. After dinner, she headed to work while i went home by 8pm.
Tues-- Worked for cummings once again:) this time round, they r having a pre xmas celebration in the office.
After work which ended at 5pm, ethan came n picked me up n we drove to PS for movie. Caught a thai movie instead.. called...
Just like thousands of Thai couples, during the nine days holiday of Songkran festival, a guy and a girl choose to visit Korea with their own specific reasons. They did not start the trip to go together, but end up returning back home to Thailand together
Funniest movie of my life! It keeps you laughing out non-stop as their poke fun at each other with their natural acting and excellent chemistry bewteen the two lead actors before turning into a tear-jerker at the last part of the movie.
Wed-- C came n pick me up from home with his posche 911. :) Had dinner at a very posh restaurant just right beside new asia bar at 71st storey of swissotel:) They served very nice french fine dining:)
AFter dinner, he sent me down to butter factor for tonight is butter pre xmas bash!!:D By 11pm, its aredi full house.. Can u imagine that? OMG!!! many of my friends came down too:)
Had supper with deep, elijah, bernice, mars the lawyer, jonathan etc.. the whole cliques of play group including my friend at boat quay before home sweet home:)
Thurs-- Accompanied terrence for a last min christmas shopping at orchard n PS. Home for dinner by 7pm.
Fri-- Its Christmas eve today!!:D
Headed down to starhub centre for a training with intel office. Imee was the one who briefed me as she will be on leave next mon n tues n i will be all alone to sit in for her.
Just then, nick called me while i was on my way home that wether im able to work for an event held at sentosa later on. I agreed.
So met up with everyone at around 720pm at st james taxi stand where edwin came n pick all of us up. Worked with mandy and rykiel too..
Our job scope was pretty easy. Its for maybank event held at cafe del mar where we gotta walked around n get ppl to play games. Theres also this babes n hunks contest going on where they r able to win great prizes after that. 2 winners will be walking away with polariod cameras while the other 6 will be given an ipod shuffles too for great participation:) Total there were 4 teams:) Thats how i know dylan, aaron and also not to forget the other group of ntu guys as well..
Below pic explain everything:)
first start off with a catwalk and also self introduction
second round: they r supposed to tie a present with using only one hand each:)
Last round: the girls r supposed to dress the guys up as the most creative xmas tress:)
Two winners even won themselves each an ipad too during lucky draw!:D Work was really easy and pay is damn good too:) Got the pay on the spot too..
At around 1159pm, everyone began to countdown and also to celebrate the white xmas as it was snowing!:D haha! manmade snow fyi:)
After work, we all left and thus i acc mandy to dolly to look for nick they all. Patricia mok was also at the same table as us:) Not to forget steven junior as well..
After staying for a little while, we switched to zouk. Thanks to jerry who always got me in without having to queue at all. Thumbs up to the manager there:) Thats when i bumped into leslie n friends at phuture. not to forget rex too whom sent me back home safely after 3am.
Ytd Xmas eve was awesome! I see snow at cafe del mar while wrking for their event which others won iPad, polaroid cameras, iPod shuffles, vouchers etc:) then off to dolly with Patricia mok n other artistes to celebrate n lastly Phuture!:)
sat-- hse party at sis D hse!:D Met up with chris after so long of not contacting each other at bedok. We then headed down to my sis place. Pearlie was aredi there earlier on and we waited for the rest to arrive too. SOon after, wen kai n his handsome friend, ryan zujing arrived too.. 3 of them were helping sis to figure out the new mio tv that she tht it was spoilt.
Then followed by agnes and kewlyn, fang and kenny reached the latest.
Xmas party at home with 12friends here r great!!:) nice seaview too right outside from the window. Playing monopoly deal now n poker:)
We watched tv tog before ordering pizzaz and kfcs. Played games like big 2 too..Soon michael came too with the food:) The guys then started their games of poker, blackjack and also games of 1-100, 5-10 with rules applied.. hahah! that was really awesome!:D
The guys all left at 1, leaving only me n my sis after that.. But it was really fun:)
House party ended!! A pity as agnes need to work so it all ended early:( Thanks to all for coming!! Special thx. Hope u guys enjoy!!:)
sunday-- dinner with sis d and also ryan and david. AT home waiting for this 2 guys to reach.
Our ever wanted dinner gathering together with david who is the little brother of ryan. He was one of the olympic champion for this yr as well. It was on the paper.
Around 7pm, Both of them got to our place and we headed to the nearby ntuc to do some grocery shopping!:D Ryan is gonna whipped some nice dishes for us tonight:) By 8pm, they were done with
cooking! a sumptuous meal indeed:) wit beef stew soup, medium rare steak, battered fish n nt to forget broccoli wit mushroom!:)
We had a very hearty meal indeed with ryan beginning to talk bout his experience when he went china. The two guys r always out of town. Though they r also singaporean. haha!
At around 11pm, we changed out and off to partyworld after that. Chose the one at liang court. Till bout 1am, ryan sent us home. Me n sis immediately knock out after washing up. lol
monday-- Got up at 7am and immediately i went to prepare myself for work and not to wake sis D up. Prepared conflakes as breakfast then off to work at intel at cuppage. Work was really relaxing. I was paid to just fb for the whole day. Desmond came n meet me for lunch at 12pm.
AFter work, i went over to meet sis D at shaw house where we then walked over to far east to look for her canon camera. But to our disappointment, the color we wanted were sold out. Thus ended up we didn buy, then just headed over to orchard tower partyworld to wait for wen kai, ryan they all and joseph.
tues-- work again for the last day of intel:) Jinyu came n meet me for lunch cuz he was only working somewhere near me too:) Home after that and took a short nap after zapping with dylan on our tw trip:)
last dec affair with gillian at butter be4 she's away next wk:) only girls: do quote gillian at the play queue for priority entry n vip stamps without even have to queue long. Guys, do get ur female friends to quote gillian too when they r dere :D let me know how many girls u bring:) call me when u reached. male guestl

ist r limited this time so no using of my name to get in if u didn rsvp earlier. thanks!♥ gillian
Thats what i do every wed at butter.. So once agaiin, i need to thanks those who came down n support:) the lists r not in according... Thanks to reiee, joshua and sharmian plus all her friends, ernest and friends, michiee and friends, eileen and friends, calcy and friends too, ivan and friends, syaza and friends, yilin and friends, teck heng n hs sisters n friends, dhan and friends, iris and her friend, etc..
Partied tog with edmund, jason and desmond too.. My sis D came for a while before someone sent her home after that. I got to work so nevertheless, i stayed throughout till 3am. Saw shaun chen hong yu n rong ming they all too. We had a short chat and also drinks. Quite surprised to see them. Oh ya.. They r al mediacorp artiste.
After 3am, we all went to 126 for dim sum supper. Before desmond sent us all home. I was sitting behind with edmund n rina as well watching the mtv in desmond car:)
Wed is once again the usual butter night:) John came n pick me up from my home after therese n we drove all the way down to orchard plaza for dinner after my sis d and kitty pearl ended a lesson.
Had jap buffet at killiney rd till 5 of us r super full..
After dinner, we headed down to butter!:D
LOve butter always where its always packed with happening ppl esp all my friends came down to support this event.
Once again, lets party like a rockstar girls!:D Join me this wednesday for another fabulous nght!!:D

Girls, pls RSVP me if u r coming down butter this coming wed okay? Just quote gillian tan guestlist at the VIP queue so to cut the long queue:) guys who are opening bottle or making table reservation, pm or buzz me on the phone ok? see ya. ♥ Gillian


BUTTER COOKIES AT THE BUTTER FACTORY
SINGAPORE'S MOST CRUNK LADIES NIGHT
8th Dec 2010
Rocking your Wednesday nights, Weekly!
Come party at the sauciest Wednesday ladies night jam at The Butter Factory.
Andrew T mixes in a delicious and sweaty dish of sexy R&B at Bump while Dave Does, Drem mashes it up with Pop anthems at Fash.
To top off the night check out the brand new Bomb Squad Kittens- a friendly bunch of Butter Cookies ambassadors. The fly-est girls you'll see in town!


Ladies Enjoy:- Free Entry All Night- Free-Flow from 10pm - 1am

Promotions on loose drinks:- 1 for 1 Jugs- 6 Tequila Shots $45- 3 Jagerbombs $36
Guys Cover Charge:- 28SGD with 3 drinks

Dress Code: Dress to impress, no Bermudas or sandals allowed
This is strictly an 18 and over event and guests must present IC or passport for entry.
Saw ernest n his friends. sherwin and his friends, jerome n friends, dennis, sharmian, reei etc.. not to forget clarabel n friends, my gfs such as kady, cherrie and so on..
Thurs-- worked for a last min event at PLAB. was asked to help out by sean for his squad anniversary. Worked with my sis, agnes, clarabel and misaki. Saw gabriel n his friends there too. Know the super nice guy-ethan there as well. The party began to hype up around evening time after the cutting cake session. They had tequila shots and many other drinks.
After work, we went partyworld with gab, aishi, ethan, john and the 4 girls excluding clarabel. Sang till 1am before ethan sent me n agnes to tiong bahru for supper at the famous yong tau foo stall.
Fri-- Met up with john and he sent me down to run some errand first before we went hp to service his phone. Saw hunnybunny there as she was having her attachment. Drove over to my sis d office and picked her n roxanne up for lunch over at damsey hill. Had thai food where seafood r included.
After lunch, we sent my sis back to office to do some packing up n went back to collect the laptop before off to marina square to meet vincent for kbox. 4 of us sang till around 10pm and ate the jap buffet provided.
After kbox, we headed down to zouk to meet the rest as its jackey's birthday today.
Annabel came a bit later. Partied till 2am where i saw janelle n patrix at the other table too.
At around 230am, ethan sent me back home.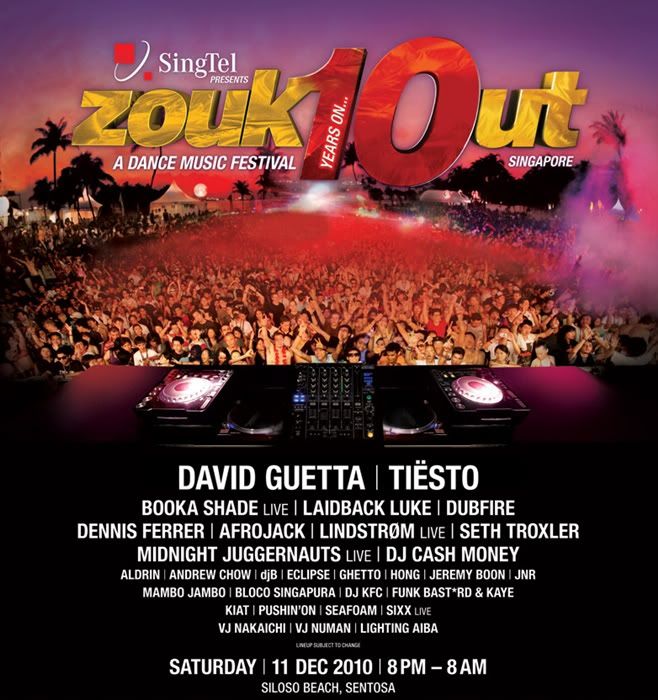 Sat- Its zoukout day!!:D Arshi came down n pick me up first before we headed down to paragon to meet john n my sis d. Both of us r working for the zoukout event tonight:)
had dinner over at fish n co before heading down to sentosa siloso beach for the citibank event. Our job scope is to act as twins and just give out the freebies.
Zoukout was way too crazily packed last night that i heard there were over a 20k of people attending. Saw many of my friends there including xavier n kenneth n their friends, jerry, nat and their friends, jojo and her friends, reei, mable and also valerie they all r working as well. I even bumped into dennis n his friends, However all these r real short as once u lost your friends u wont be able to find any of them at all esp to say there wasnt any reception there not to say u can even send sms or received calls at all.
Worked till 2am where we saw fireworks at around 3am.
Was all the while with brandon, one of my model friend at wavehouse, after i lost all my friends:(
We had a chit chat session n was just purely drinking coke. Till bout 6am, john sent me, stephanie n tricia home.
monday-- met up with sis d to collect the black boots she got for me. so sweet of her!:D then we went to bugis area to shop around before ming jie came down n meet me for dinner at nanxiang restaurant. 2 of us ate till 60 dollars for just a few dishes.. But all r awesome!:D We had xiao long bao with shark fins, the drunken chicken, prawn noodles soup, the variety of vege with all kinds of assorted eggs.
After dinner, we walked around bugis junction before driving down to selegie to have rochor beancurd as supper and around 9pm, he sent me home.
Tues-- worked for a dnd event at mandarin orchard hotel with xingyi.
Just so nice that jovin and sean r also working there too that night:)
We were all ushers that just stand near the door and welcome the guest in.
ABB is having a theme of the star award where all the guests who attended were all dressed up like a super stars with the paparazzi and also interviewers to film them. There were also talentime going on.
Sometimes we play with love. But when the time comes &; you finally realize that you want to get serious, love plays with you.
American Express Presents:

BUTTER COOKIES 2nd ANNIVERSARY

We turn 2 this coming Wednesday at The Butter Factory!

...15th December 2010
Butter Cookies, The Undisputed Best Wednesday Ladies Night Party in Singapore

Door opens 10pm and table bookings are filling up fast so we strongly urge everyone to book up your tables now and arrive early to avoid disappointment.

Butter Cookies Anniversary's Official Party Shots: Jagerbombs at $18
1 for 1 All Night Long

Bump

DJ Andrew T
http://twitter.com/DJAndrewT
http://soundcloud.com/djandrewt

FEAT. Guest DJ MOTO (Australia)
Blacklabel Crew + Sydney

FASH
Dave Does
Shawn Livewire

To top off the night check out the brand new Bomb Squad Kittens- a friendly bunch of Butter Cookies ambassadors.

The fly-est girls you'll see in town!

Ladies Enjoy:
- Free Entry All Night
- Free-Flow from 10pm - 1am

Promotions on loose drinks:
- 1 for 1 Jugs
- 6 Tequila Shots $45

Guys Cover Charge:
- 28SGD with 3 drinks

Dress Code: Dress to impress, no Bermudas or sandals allowed

This is strictly an 18 and over event and guests must present IC or passport for entry.
Tonight butter 2nd anniversary gonna be an awesome one:) many babes and hunks r going from my sides:) feel free to contact me girls if u and ur friends wants to get in to the VIP area without been having to queue! just quote Gillian tan at play queue will do:) let me know the no of girls u r bringing okay? This include

s guys too for any of ur female frenz who r going:)
For more previous post, pls click on the "older post" button which is just right at the bottom:)